The History of Oakley BC
Formed in January 1978 Oakley Bowling Club was the first Club in Hampshire to be totally mixed. All members, both male and female, had equal rights and all could aspire to the highest offices of the Club. Oakley first elected a lady as President in 1983.
Playing initially on a green at Carpenter's Down in Basingstoke, which it rented from the Council, it moved to its present picturesque home looking out over the Hampshire Downs on the Malshanger Estate in 1984, following extensive fund raising. The Club is extremely grateful to Sir Michael and Lady Colman for having allowed it to locate in such a splendid position. A detailed history of the early years can be found by clicking below.
In recent years there has been a drive to further improve the facilities and the first move was to agree with Mr Jamie Colman arrangements to give it a greater security of tenure. A lease of the Bowling Green, its surrounds and car park was signed on 1st May 2009 and runs for 25 years. Further discussions in 2010 led to an additional piece of land being provided for a new pavilion on the north side of the green and following a big fundraising campaign, and grants from Sport England and the District Council, work on this new pavilion began on 19th April 2012. The project was completed in time for the start of the 2013 season. On the 4th June that year the club received a visit from the Friends of English Bowling and, on 5th July, from the Bowls England President's team when Sir Michael Colman, accompanied by the Club President and the Mayor of Basingstoke and Deane, cut the ribbon to open formally the new facilities.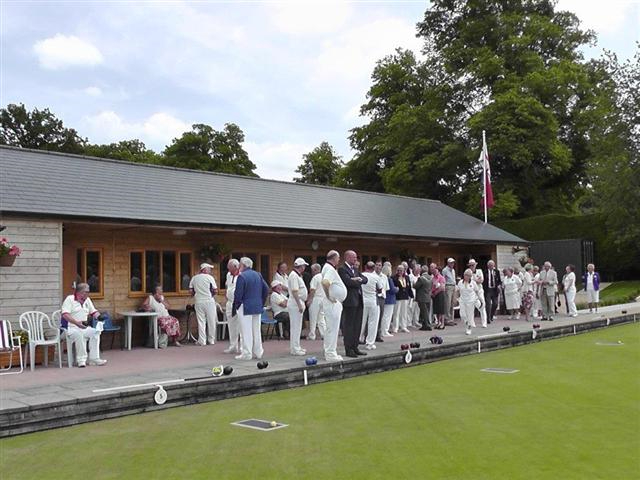 The ultimate accolade came, however, in the October of that year when Bowls England announced that the club had won the prestigious Bowls England/Drakes Pride National 'Club of the Year' Award.
Oakley contributes a great deal to the bowling community. During its short life, members have been President of the English Women's Bowling Association (EWBA), Bowls Hampshire, Hampshire County Women's Bowling Association (HCWBA), the North Hampshire Women's Bowling Association (NHWBA) (twice), the Basingstoke and District Bowling Association (BDBA) (3 times) and the Whitchurch League (twice).
Currently Oakley members hold the posts of Vice Chair, Secretary and Area Secretary (Ladies) of Bowls Hampshire and Vice-Chair, Match Secretary and Treasurer of the Basingstoke & District BA. Many of the Officer and Director posts in the local Indoor Club (Loddon Vale) have over the years been filled by Oakley members.
Despite its prowess in administration and bowling Oakley is as well known for its friendliness. It plays a large number of "friendly" games, both outdoors and indoors, has toured every year since 1982 in either England, Scotland or Wales and strives always to promote the game and to ensure fellowship in both bowling and social activities.